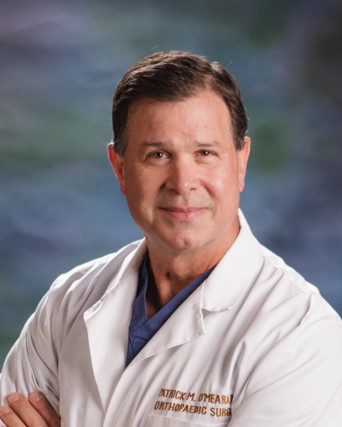 CURRICULUM VITAE
PATRICK M. O'MEARA, M.D., F.A.A.O.S.
PRIVATE PRACTICE
Palomar Orthopaedic Specialists, APMC
UNDERGRADUATE EDUCATION
Occidental College
Los Angeles, CA
Degree: Bachelor of Arts (AB)
Phi Beta Kappa
MEDICAL SCHOOL
University of Southern California (USC)
Los Angeles, CA
Degree: MD
RESIDENCY
University of Kansas School of Medicine,
Orthopaedic Surgery Residency Program
Wichita, KS
Degree: Orthopaedic Surgeon
Awards: Mid-America Orthopaedic Association Traveling Residency Award in Sports Medicine
Dr. O'Meara is a native of Southern California, born in San Diego. He attended Occidental College, "The Harvard of the West Coast". During his college studies, he attended a summer internship through the University of London researching England's National Health Service. After four years of college, he graduated with Distinctions, Cum Laude, and Phi Beta Kappa.
Dr. O'Meara then attended the University of Southern California (USC) School of Medicine.
After graduating from medical school, Dr. O'Meara attended an Orthopaedic Surgery Residency through the University of Kansas. The residency program provided extensive, high volume and high tech training. The training in Kansas utilized two Level 1 Trauma Hospitals where the latest technology was used to treat complicated injuries and trauma. Both Hospitals were also surgical reconstruction centers that performed high volumes of joint replacements and ligament reconstructions. During six months of his residency program, Dr. O'Meara also trained in Pediatric Orthopaedic Surgery in St. Louis, through Washington University.
Because of his accomplishments during his training, Dr. O'Meara was awarded the Mid-America Orthopaedic Residency Award which gave him the opportunity to travel to the prestigious Campbell Clinic in Memphis, Tennessee to train in sports medicine and learn specialized arthroscopic procedures of the shoulder and knee.
Dr. O'Meara established his private practice in Escondido and founded Palomar Orthopaedic Specialists, APMC in 1992. He was recruited to the area by Palomar Medical Center to provide state-of-the-art orthopaedic services to patients within the Palomar-Pomerado Health District. He quickly distinguished himself as the premier orthopaedic surgeon in Inland North County.
Through his commitment to provide the very highest quality of care to his patients, Dr. O'Meara became involved in developing specialized orthopaedic surgery centers where patients could receive a level of care not available at hospitals. Dr. O'Meara helped build and develop Elite Surgery Center in Escondido; The Orthopaedic Surgery Center in La Jolla; and Carlsbad Surgery Center in Carlsbad.
Chairman of the Department of Orthopaedic Surgery, Palomar Medical Center
Voluntary Clinical Instructor, University of California, San Diego
Founder and President of Palomar Orthopaedic Trauma Associates, LLC.
Member of the Joint Medical-Legal Commission of the San Diego County Medical Society
Delegate of the California Medical Association